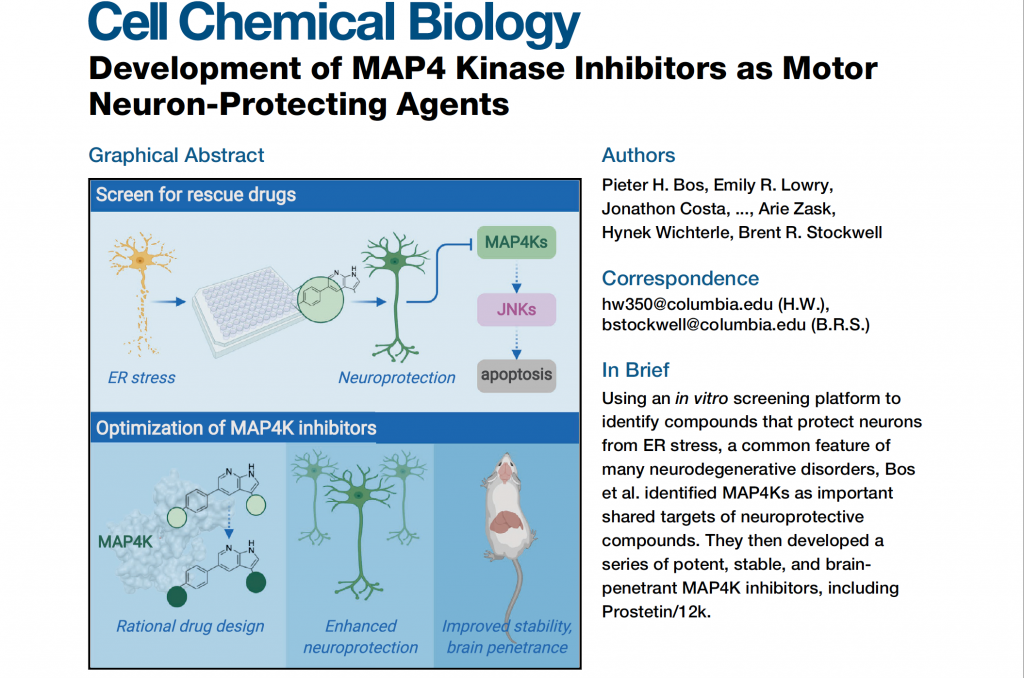 Prosetin: The Core's First In-House Drug Candidate
posted by:

admin
No Comments
What's Prosetin?
If you've been following Project ALS, you have probably heard us mention PHB, our working name for The Core's first drug candidate-in-development. Now, we are proud to announce the final version of PHB—the real thing—a fully optimized, comprehensively tested drug for ALS called prosetin.
"Development of MAP4 Kinase Inhibitors as Motor Neuron-Protecting Agents," published this week in Cell Chemical Biology, describes how the labs of Hynek Wichterle and Brent Stockwell (Columbia) developed prosetin. It took 5 years, and over 80 versions of the compound, to get to prosetin: a drug that rescues motor neurons in cellular and animal models of ALS, crosses the blood-brain barrier with ease, and has been safe and well-tolerated in all of our tests to date.
Notably, pathways that prosetin targets have been identified by many other ALS researchers in independent drug screens. Most significantly, the lab of Lee Rubin (Harvard) reported this spring that inhibiting HGK (MAP4K4)—the exact mechanism of prosetin—also helped motor neurons in his lab's cellular model of ALS.
For more details on prosetin, check out our recent livestream with Dr. Emily Lowry (Columbia), co-first author on today's publication:

What's Next?
Prosetin has come even further since the work described today. Researchers at The Core, led by Dr. Lowry, have tested it for safety and efficacy in all of our ALS models. The results were positive—and now, Project ALS is funding all next steps to bring prosetin to a clinical trial for ALS patients in 2020.
"Twenty-two years after my sister Jenifer was diagnosed with ALS, there are still no drugs that work for this universally fatal disease," said Valerie Estess, Director of Research at Project ALS. "Prosetin has a real chance of changing that, and we at Project ALS cannot sit by and wait for a drug company to recognize its commercial potential. We are excited to partner with Columbia to move prosetin to clinical trial as quickly and responsibly as possible."